It's finally here!
[ame]http://www.youtube.com/watch?v=pvUFL___0Io&feature=plcp[/ame]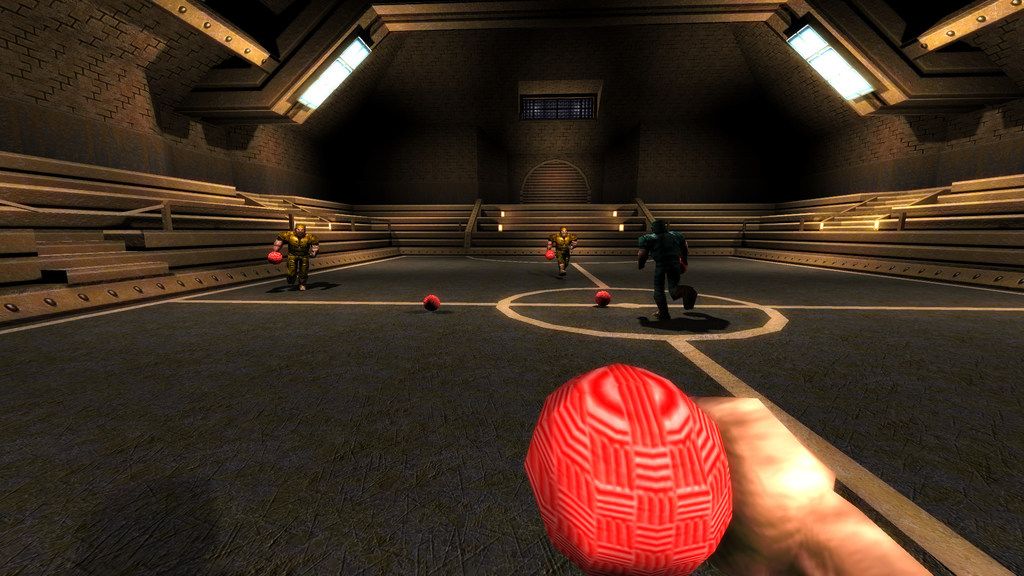 Third Release:



Quake Dodgeball v1.2

- A short version of "Unreleased Aggression" by Trickle will now play at launch!
- A new conback created by Moon[Drunk]
- New original short victory songs for both teams by Trickle
- New sounds added, including original fight and headshot voices!
- The Homing Ball now has a new look!
- The Fire Ball now has animated textures!
- New Roflcopter ball and skins!
- Improved bot AI
- Three new maps by negke: dbcourt, dbmeadow, and dbvolcano
- Updates and colored lighting added to previous maps
- A new ability to deflect regular dodgeballs
- Improved catching animation
- Sprinting now has a sound
- Ice dodgeballs now cause other players to drop their special dodgeballs
- Damage from regular dodgeballs along with power thrown ones are now increased
- Damage from Fire Ball now increased
- A new special dodgeball pick up
: : Darkplaces is highly recommended for bots! : :
SOURCE CODE NOW RELEASED!
That's right! This will hopefully make it easier for the Universal NQ servers as well.
Some gameplay footage.
[ame]http://www.youtube.com/watch?v=R6Prnc5Dk6k&feature=plcp[/ame]
dbmeadow
[ame]http://www.youtube.com/watch?v=Edgot1vogSM&feature=plcp[/ame]
dbbase
This was a special surprise release for the 2016 Quake Expo!
Download Here