Hello,
Since a few days the rumors were everywhere.
Now its official and released:
Id Software and Machine Games have been working together to give you all:

The Quake Ehanced Update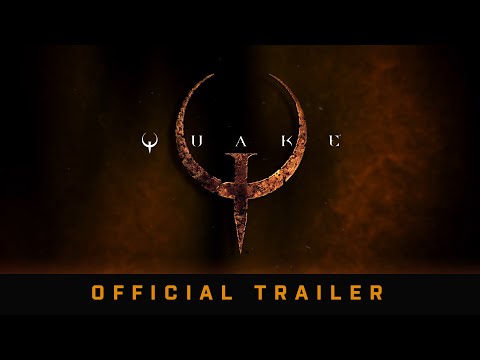 Most important:
It brings a brand-new expansion called:
Dimension of the Machine
by Machine Games (who brought us the amazing
Dimension of the Past
a while ago).
Steam users get the update for free.
Its on ALL platforms now (consoles and PC).
It also has 4 players split screen support.
Feature List:
https://store.steampowered.com/news/...04318371492362
Quake Ė the legendary dark fantasy FPS that revolutionized the genre is now enhanced! This new offering features cross-play, dedicated servers for online deathmatch matchmaking, free optional Add-ons, split-screen support for local deathmatch and co-op, AI opponents in deathmatch and more!
Note: Steam users who already own Quake will automatically receive the new enhanced version with a free download!
Read the FAQ below for details on how to access the enhanced version.
RELEASE NOTES
Enhanced Graphics

Better lighting, new models, updated maps, and a dynamic shadow system headline the graphical features available in Quake. Individual features of the enhanced graphics can be turned on and off to your preference
Includes Original Expansion Packs

The two retail expansion packs, Scourge of Armagon, and Dissolution of Eternity are both now bundled with Quake, and are integrated into the main game. The downloadable expansion pack, Dimension of the Past, has also been upgraded and included
Includes Soundtrack

The iconic original soundtrack by Trent Reznor of Nine Inch Nails is now included on all versions for the first time. The soundtracks for Scourge of Armagon, and Dissolution of Eternity are also included when playing those expansion packs
Brand New "Dimension of the Machine" Episode

Created for Quake's 25th anniversary, Dimension of the Machine is a brand new experience created by the MachineGames team. Continue your fight through brand new dimensions, figure out the secret to restarting the machine, and come face to face with an old foe
Free Optional Add-ons

Similar to our re-releases of DOOM (1993) and DOOM II, we will also be periodically releasing free optional Add-ons available to download in the in-game "Adds-on" menu. Our first Add-on is Quake 64, which includes the original alternate soundtrack by acclaimed composer Aubrey Hodges
Split-Screen Multiplayer

Quake includes 4 player split-screen multiplayer on all platforms, in both deathmatch and co-op modes. Fight against your friends, or with your friends in all five campaigns. AI bots are also available to play against in deathmatch mode
Online Multiplayer

Play custom matches on player-hosted servers, or hop into matchmaking and play on dedicated servers. Quake also now includes the extra levels Acrophobia, and The Edge available in deathmatch mode. Dimension of the Machine also contains all new deathmatch levels
Cross-Play Multiplayer

Play with friends no matter which platform they prefer. Cross-play is available on all platforms, so you can play Quake with everyone
Supported Languages

English, French, Italian, Spanish, German, Russian
Have fun and happy model exporting ...
Seven