Note: There is an excellent Rocket Arena map reference at
http://www.runequake.com/maps/ra/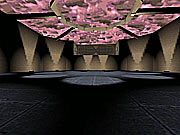 Rocket Arena is a 1 on 1 style, round based game played on custom rocket arena maps.
The Basics:
You spawn with 100 health, 200 armor. You have a considerable, but limited amount of ammo. You face an opponent one at time, the victor plays the next opponents and the loser steps to the back of the line.
Required Files:
Rocket Arena Maps (
Install Now
7 MB)
Commands:
Type the name of the map in the console to initiate a vote for anyother map.
The Servers:
quake.shmack.net:26001 is the primary rocket arena server; check
http://www.quake1.net
for other servers if needed.