Rune Quake is a mod derived from the original Artifact Quake, with more features, more flexibility and many more modes of play. It does not require a special download.
The mod is maintained by Slot Zero, who has merged many CRMOD features into it and it can also be used a very flexibility death match mod, capable of great versatility. It also has a rocket arena mode.
The official site and forum are located at:
http://www.runequake.com
http://forums.runecentral.com
The Basics:
Rune Quake is a free-for-all style mod with numerous runes in addition to the standard Strength, Resistance, Self Preservation, Regeneration.
It includes runes such as cluster grenades, gravity wells, radioactivity, fire traps and many others. It is generally played to 50 frags.
It usually features a grappling hook. It features alternate weapons such as bombs, gas grenades and the BFG.
More detailed information is located at
http://www.runequake.com
The Binds:
+hook = grappling hook
rune-use = use rune
rune-delete = drop rune
rune-tell = display current rune
+sattack6 = throw a quick grenade
+sattack14 = throw a quick gas grenade
Notable Commands:
commands = displays common commands
vote-exit = vote to change maps
vote-teams
vote-match
vote-hook, vote-ring, vote-quad, etc.
There are many more commands, see the reference at
RuneQuake.com
or read at the
official forum
.
A map can be also be voted by typing the mapname in the console, such as DM6 or START. There is thorough map reference at:
http://www.runequake.com/maps/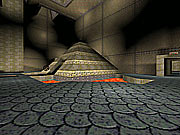 The Servers:
quake.shmack.net is the most popular server and typically is busy 24/7.
Variations/Derivatives:
There are currently 2 major variations of Rune Quake.
One is run at Beatdown Alley (bda.essentrix.net) with custom maps (
Download now
30 MB+/-, unzip to c:\quake\id1\maps).
This mod is known as the Beatdown Alley mod, and was written primarily by IEEE 802.11 and [LOL]Dolemite using standard RQ as a base.
The other derivative is run at Fear (fear.lokinetworks) running standard maps. This mod is called RQP+ and is maintained by IEEE 802.11