EVERYONE!!! This is the Abyss of Pandemonium revolution! AoP is rising, and there is more to come from me and blood vengeance!
We must rev up the hype train to maximum velocity, and your help is needed. If anyone wants to contribute to this great cause, you can do so! Even if you think you can't, you can by at least playing AoP and saying "Wow, how did this get so overlooked by the good people of QRP, Reforged, and QuakeOne," : ).
Our holy pilgrimage to HD-ifying AoP begins with this skin for blud I made in glorious 1024*2048, complete with a nice gloss, norm, and luma map!
If you know how to make a REFORGED-style norm map though, this skin could use one to unify it with the rest of the reforged monsters.
Our humble beginnings at crappy 256*512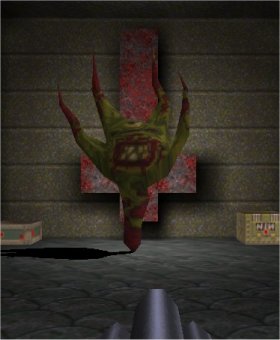 Self-explanatory
So what are you waiting for...
DOWNLOAD
https://www.mediafire.com/?dthoswq5dr52uhf
Sound replacement pack for AoP coming soon.
And if anyone can post this in the site's announcements page to create awareness for the AoP cause, that would be most appreciated.