Hello,
I think everybody knows Urre´s and Zombie´s beautiful "
DP Pretty Water
". Their latest version is V0.2.
My-Key made an update (V0.21) in august 2009.
From time to time I worked on it as well to get the best visuals, and causing the smallest FPS drop when using it.
Today I want to release
V0.51
(this replaces several prior versions which I had released).
Updated to V0.55
This is the revision history:
Update 16/5/2008: Updated to use the latest shader parameters in DP, so the pack works again!
Update 12/8/2009: Now you can see differences between water, muddy water and slime
Update 15/6/2010: My-Key´s water looked a bit like plastic, without movement. So I mixed Urres Textures
with My-Keys Shader to get the best out of both: Water movement + different color between water,
muddy water and slime !
Update 16/7/2010: Modified the "water.shader" so that "slime0" and "slime1" look more green. Now its easier to separate it.
Update 24/10/2010: Modified textures "water0", "water1" and "water2" so that different colours are again easier to separate and
less transparent
.
Update 10/07/2011: Modified texture "water0", corrected shader to be able to work with DarkPlaces versions from may/june 2011 and newer (but still works for older version too !).
Update 24/05/2012: Modified shader (mainly increased texture/wave scale, and increased transparency). Thank you Smith for the tip.
Special thanks and Credits of course to: Urre, Zombie and My-Key
Some impressions of different water types with this mod: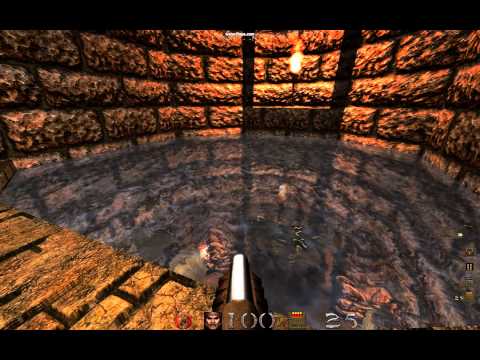 TIPS:
- To have less FPS drop use the cvar:
"r_water_resolutionmultiplier"
(default is 0.5)
I highly recommend: "0.4"
(or even less)
- To avoid seeing your own reflection in the water use the cvar:
"r_water_hideplayer"
(default is 0)
Kind Regards,
Seven
Download V0.55
Be sure to also try
Webangel
´s and
Moon[Drunk]
´s beautiful water packs and pick the one you like the most. I am sure you will find the right one for you.
-
Webangel´s pack with dp_waterscroll usage
-
Moon[Drunk]´s pack with animation textures
VISed maps
for ID1 + MP1 + MP2 (needed for "DP pretty water" !)
.