Does anybody still read this stuff? I drop in now and then, rarely do I log in though.
Made some pretty significant additions and changes to my gear.
I used to play though a rackmount amp consisting of a 1990's Marshall JMP-1 tube preamp, a Digitech GSP2101 preamp & multi-FX processor, and a Peavey Classic Series 120/120 dual mono tube poweramp loaded with 6L6GC tubes, all into a Carvin Steve Vai Legacy series 4x12 slant cab loaded with 4 Celestion 60w Vintage 30's.
At some point before the end of 2018 I decided that I didn't like that setup anymore and I wanted to go to a traditional head and cab amp setup with pedals instead of mostly rack effects. So I think it was about June of last year that I sold off my Marshall and Peavey units for about 250 each and put that with the cash I'd been saving towards a brand new Orange Rockerverb 100 mk3 head in black tolex.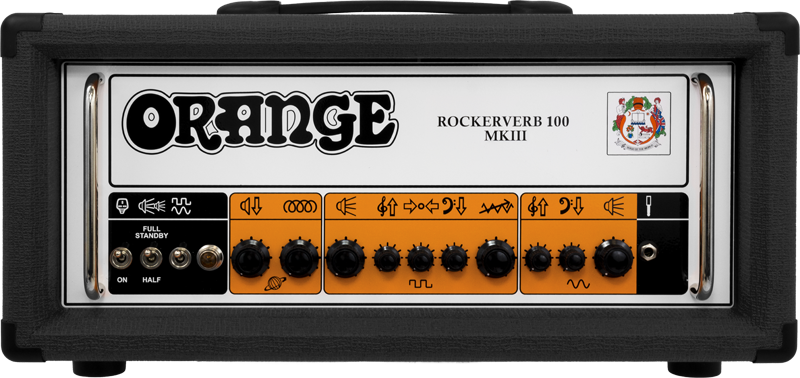 I thought my old amp sounded like a solid state preamp that was attempting to sound like an all-tube amplifier, and that's kinda an accurate description for it I guess, but... after getting rid of it, I kinda wish I could've found a way to keep it. You often don't fully appreciate something until it's gone. It was actually VERY pedal friendly, whereas my new Orange head is an old school tube amp, and it's not entirely pedal friendly. Because your input gain is so important to how the preamp section drives to achieve distortion, pedals like a univibe can effect the line gain and as the effect moves, the amount of overdrive fluctuates with the slight differences in input signal strength.
But my new amp still KILLS. It's incredible sounding. Wasn't cheap, cost me about 2300 with tax, but it definitely sounds like an amp that you paid considerable money for. In another post I said Marshall JCM900's were my favorite amps. Nah, this sumbitch is my new #1.
Also have a whole slew of new pedals. The black russian Big Muff fuzz, I hardly touch anymore. A good while back I bought one of the new EHX op-amp Big Muff reissues... and that I barely touch anymore either. Just after Xmas this year, I found the one pedal I've been trying for YEARS to find, a mid-90's EHX/Sovtek green russian bubble font Big Muff fuzz. It's a really early version of the bubble font Big Muff, one with several circuit components common to the earlier tall font Big Muffs. It actually sounds more like a tall font Big Muff than a common bubble font Big Muff, which is pretty cool because those are widely considered to be the best sounding ones. It sounds great. Only paid 250 for it, and usually they go for about 350 or 400.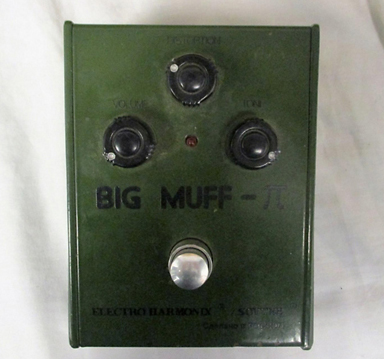 A little before I bought my Orange head, I bought a new wah pedal to replace my old 1990's Vox v847 US made wah which was worn completely the fuck out. I got a Real McCoy RMC-4 picture wah. Best sounding wah I've ever heard, supposedly stupid-close in specs to the old Italian made Thomas Organ Clyde McCoy picture wahs from the late 60's like Jimi Hendrix and Eric Clapton made famous back then.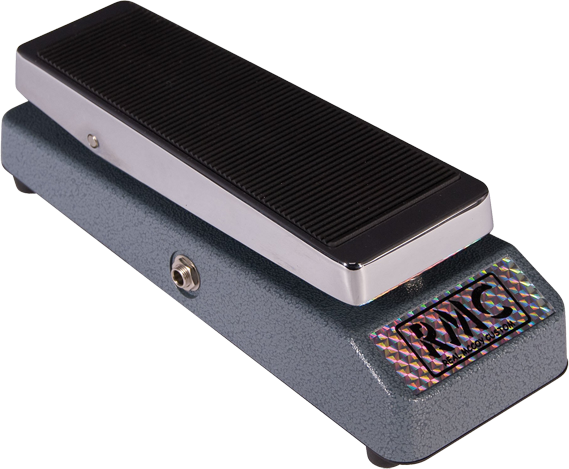 I also managed to find an older model Fulltone MDV1 Deja-Vibe unit. It's supposedly a faithful recreation of the old photocell driven univibe units from the late 60s like Hendrix and Robin Trower used a lot. I LOVE IT. I use this thing TONS now, probably my favorite single pedal.
Dunno if I posted about it before, but a few years back I got an Ibanez TS9DX Turbo Tubescreamer. I don't use it very much these days with the new Orange amp. But it's a somewhat useful tool for sculpting subtle overdrive tones through a clean amp setting or further blasting some gain on a dirty setting. But my amp sounds so great on it is own that I really don't need to use this pedal for anything like that anymore.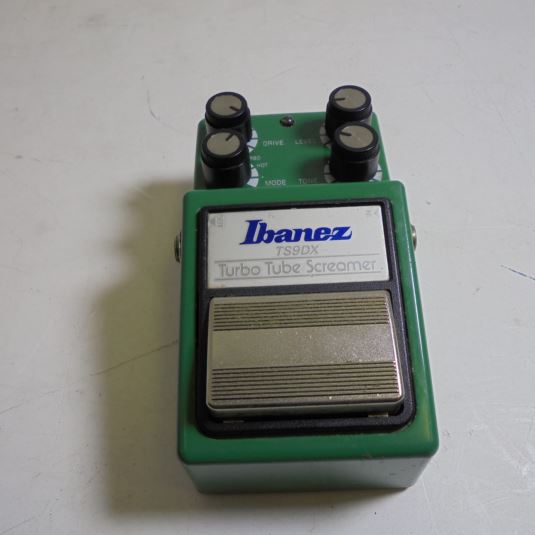 Hmm, what else. Back in October I bought an EHX Pitchfork pitch shifter pedal. It's... not my favorite thing. For a pitch shifter, it handles chords pretty good, but the tracking to it produced a bit of a delay to the shifted part of the effect, so it doesn't sound as tight and focused as I hoped it would. Probably gonna get an EHX MicroPOG to replace it with before too long, I think one of those will do what I'm trying to do a little better. I'm trying to reproduce the octave sound that Joe Satriani had on his song "Ice 9". It also has the ability to do semi-tones of the dry pitch which allows it to do a detune effect, which is very similar sounding to a chorus effect. So perhaps I'll keep it permanently, I dunno.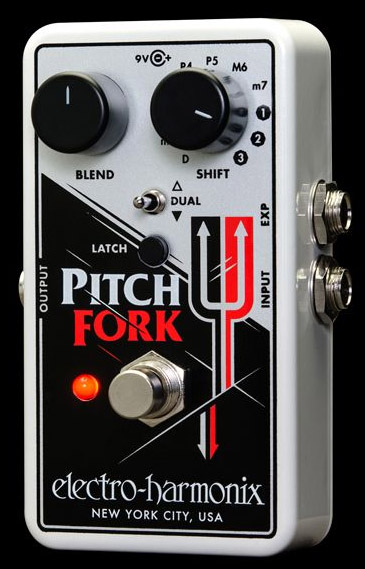 And at Xmas this year I got 3 new pedals.
Found a used EHX Canyon delay for 100 bucks. It's a pretty handy and versatile compact delay with several different styles like digital, analog, reverse, shimmer, a few others that I forget at the moment.
Also bought myself a Fulltone Octafuzz. Sounds like an old Octavia octave fuzz like Hendrix used on Purple Haze. Also has a switch to turn off the octave overtone and use it as a straight fuzz pedal, which is great too, because I honestly think the regular fuzz sound is the best part about the pedal.
Santa Claus brought me a kick-ass deluxe delay pedal I'd been wanting for a while. Way Huge Supa-P-U-S-S (stupid damn word filter, FUCK FUCK FUCK, that's not censored, go figure) analog delay. It's an analog circuit delay with built-in tap tempo button, modulation controls for the delay trails to make it sound like an old tape echo unit, and also has gain and tone controls to further shape color and grittiness of the delay trails. It's kinda complicated with all the knobs and functions, I'm still getting used to it.