Ladies and gentlemen of the quakeone community.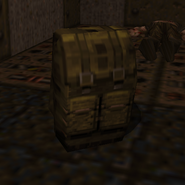 Time has its seasons and change never waits for us to prepare. I joined quakeone in 2006 and as one of its oldest members I've seen incredible works, insane drama, and everything in between on here. Over the last five, I've been visiting and contributing less and less. I've always made a point to peek in to share what I've been working on, give feedback, ask for advice or tinker around with content but I can't avoid the writing on the wall any longer.
It's a difficult choice for me to make, but I've grown so comfortable with the community that I've begun using it as a crutch. A place where I can give myself the illusion of being productive while avoiding the responsibilities I have with my professional work. Self control isn't something that comes easy for me, so when push comes to shove, I need to make rigid obstacles to wean myself from habits that are counterproductive.
As a parting gift, I would like to leave the quakec mod along with the modified models/skins, retro-style autoexec.cfg and CRT shader config for use with Reshade 3.0.4.
The autoexec and shaderconfig work best with Quakespasm.
https://dl.dropboxusercontent.com/u/...2/hangnail.zip
While the quakec stuff is tutorial-grade amateur silliness, I'm proud of the work I did tweaking the skins and models. Maybe somebody can use these for their own work going forward.
In summary, it's been a hell of a wild decade. Thank you for allowing this freaky goth fraggle to share in this obsession with a filthy old antique of a game for all these years. It's been a joy.
I'll be keeping my account open and answering as many questions and interacting as often I can through this thread for the next week, but on Weds Nov 23 my account will be closed.
Your friend and deathmatch decoy,
-Amon
Twitter:Amon26
Itch.io: Amon26
Bandcamp: Amon26